On Saturday, December 8th at 7PM, U.S. audiences will have the opportunity to see Bumblebee early, as noticed on TFW2005.
Billed as an "Early-Access Screening", the event-like show will be available at multiple U.S. theater chains such as Regal Cinemas, AMC Theaters, Cinemart and likely others. Where available, Regal will present the film in their premium RPX format.
A description of the event on Regal Cinemas' website reads "Moviegoers in select cities across the US & Canada will have the chance to be the first to see BUMBLEBEE in participating theatres almost 2 weeks befor the film opens nationwide. This event offers fans and their families the chance to be the first to see the movie, new behind the scenes bonus content afterwards, and receive a Transformers: Tiny Turbo Changers Movie Toy."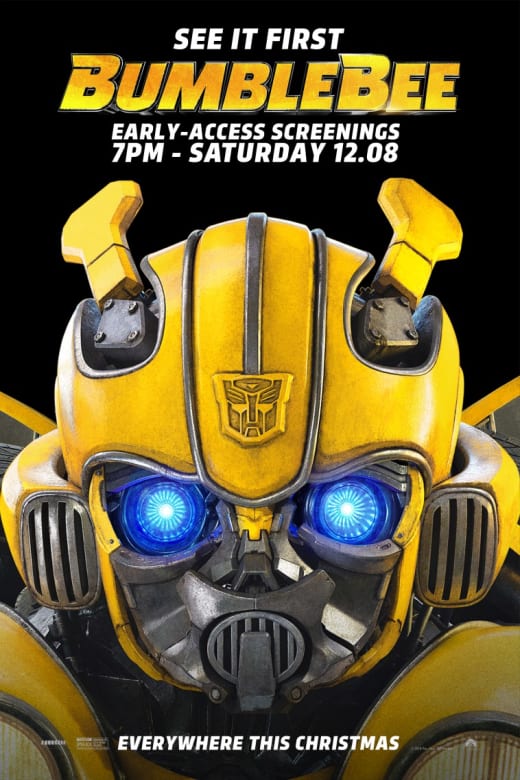 The early screening will be five days before the film officially opens anywhere in the world, as it is set to begin its worldwide run in Russia on December 13. It will also be almost two weeks before the regular U.S. release on December 21st. Presenting the film to the public so many days before release could show Paramount's confidence in the film.
This screening, though not affiliated with Amazon, mirrors the 12/15 Amazon Prime screening of Aquaman. Similarly, a 7PM showtime on a Saturday several days before the opening weekend was made available there.
Aquaman and Bumblebee both open on the same weekend. That is one reason Bumblebee will not be available in IMAX for its U.S. opening. The film however will be shown in realD 3D and various premium formats, such as RPX.
Tickets for Bumblebee were originally scheduled to go live on November 19th, but appear to have been delayed. They are now available for both early-access as well as standard screenings.
Bumblebee's total runtime including credits is 119 minutes.