As we previously reported, the James Cameron-produced Alita: Battle Angel is being heavily marketed as a "3D event". IMAX 3D-only and Dolby 3D screenings, which are normally very rare, are set for the film.
After free 3D screenings on January 31st, moviegoers around the country will get another chance to see the film early on February 11 and 12. Those (paid) 3D shows will at 7PM on both of those days. The film will open regularly a day later, with standard preview shows on Wednesday February 13.
Before you ask: Yes, those showtimes are AMC A-List eligible.
Depending on the location, some theaters will present the "Early Fan Event" in IMAX 3D or Dolby 3D.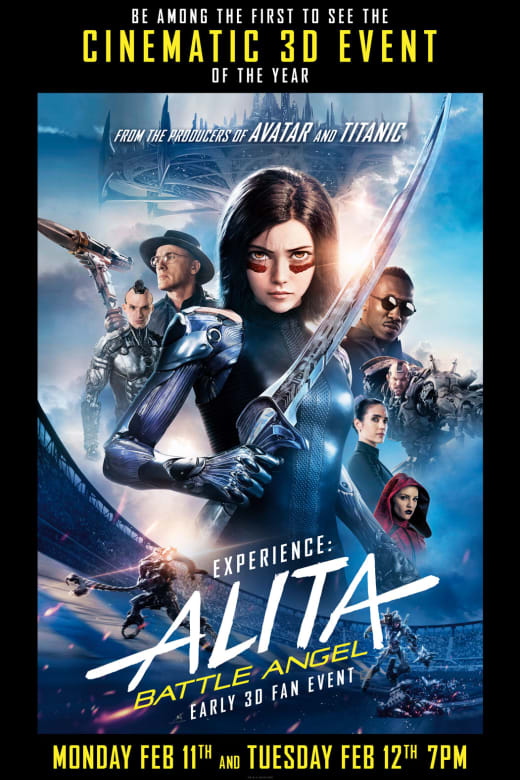 Tickets for the shows are now available and can be found here. Although the film has so far been receiving a mixed response by critics, many did praise the 3D of the film.
Vinnie Mancuso from Collider criticized the film's exposition, but writes that "visually, woo boy, visually Alita: Battle Angel is an experience well-worth that extra 3D cash."
Molly Freeman from ScreenRant dubbed the 3D "stunning" and Edward Douglas from The Weekend Warrior wrote that it made the film "especially captivating".
I reviewed #ALITA: BATTLE ANGEL for @screenrant and it's a bit of a mess, especially toward the end, but it's a beautiful mess and pretty dang fun

(seriously, see this one in 3D) https://t.co/CnFzsEObox — Molly Freeman ? (@mollyrockit) January 31, 2019
Alita: Battle Angel has around 40 minutes of footage shot with IMAX 3D cameras. The film was shot in "native 3D", according to its director Robert Rodriguez who calls himself a "huge 3D proponent".
Follow @martin_samoylov and @rereleasenews on twitter.
Related: "Alita: Battle Angel" Being Promoted as "3D Event"
Image: 20th Century Fox.