The long-awaited Nitehawk Prospect Park will finally open it's doors tomorrow, on December 19th. The seven-screen dine-in multiplex will feature Mary Poppins Returns, Green Book, The Favorite, Free Solo, The World Between Your Feet and Shoplifters on it's first day. When released, Aquaman and Vice are scheduled to be shown as well.
This selection is quite different from Nitehawk's original selection in Williamsburg. Not just did that have fewer screens, but it currently doesn't feature blockbusters such as Mary Poppins Returns or Aquaman.
This change in selection is deliberate, as Nitehawk's first expansion will be on the sight of the former Pavilion theater. For years, audiences from all around Park Slope enjoyed first-run films at the Pavilion. Not just was the location historic, but it was important due to the lack of cinemas in a very dense Brooklyn.
However, the Pavilion was also haunted with lack of maintenance and bed bug complains. Eventually, it shut down and Nitehawk offered to renovate to what will be opened tomorrow.
This will mark New York's fifth dine-in theater. Nitehawk however doesn't want anyone to forget that there would be no alcohol-serving dine-in theaters in New York without it.
"Setting a historical precedent, Nitehawk Cinema is single-handedly responsible for the groundbreaking overturn of the prohibition-era New York State liquor law that made serving alcohol in motion picture
theaters illegal. Gov. Andrew Cuomo signed the new law allowing moviegoers to enjoy an adult beverage at their theater seats a mere three months after the Cinema's opening date; and thus, a new era of boozy film viewing in Brooklyn (and beyond) began!," writes Nitehawk in their Prospect Park fact sheet.
Since Nitehawk opened its location in Williamsburg, the game has indeed changed for New York moviegoing. Alamo Drafthouse, a nationwide dine-in chain, opened a now extremely popular location in Downtown Brooklyn. iPic and CMX Cinemas, two luxury dine-in brands, both opened locations in Manhattan just in the past two years.
Although Nitehawk Williamsburg was indeed the first dine-in cinema when it opened, Nitehawk Prospect Park will be the fifth. However, one competitor was nice about it. "Congrats and best of luck with the grand opening!," tweeted Alamo New York.
And, if five dine-in cinemas in New York wouldn't be enough, there will soon be eight. Both Alamo drafthouse and AMC Theaters want to build dine-in locations in Staten Island. Plus, Alamo also wants to build one in Manhattan's Financial District.
Yes, that will mean that in possibly just a few months New York city will be home to eight different dine-in movie theaters. And indeed, it all started with Matthew Viragh's Nitehawk.
According to Viragh, the original Pavilion inspired him to open Nitehawk, as he used to smuggle alcohol to its screenings. Aside of alcohol of course, dine-in theaters feature many non-alcoholic drinks and meals. The menu may be found in advance on their website.
The theater, as all dine-in multiplexes, will continue it's 18+ policy. However, minors may attend with their parents.
Nitehawk Prospect Park will feature seven auditoriums. As with Nitehawk Williamsburg, the theater will feature no recliner seats. Except for the large auditorium 2 which has full stadium seating and a stage as well as auditorium 1 which has partial stadium seating and is the largest theater by seat count, all theaters have standard seating. However, seats are designed to give ample leg room as well as space for servers.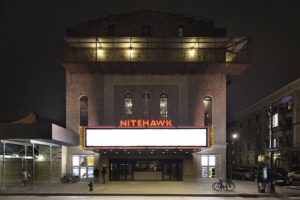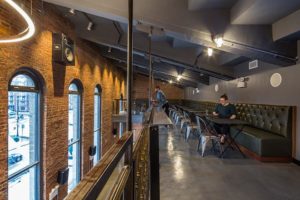 Four of the seven screens will be able to project 35mm film, so events and screenings of older films are expected.
The seat count, admission pricing and the theater's hours of operation are as follows, subject to change:
7 theaters, totalling 650 seats
Theater 1: 194 seats
Theater 2: 166 seats (stadium seating)
Theater 3: 70 seats (lower level)
Theater 4: 60 seats
Theater 5: 56 (lower level)
Theater 6: 48
Theater 7: 56 (lower level)
Adults – $13
Senior/Child/DIsability – $10
Special Event with live performance or add-ons – $18
Bi-monthly Film Feast – $75
Monday-Thursday: 4:00 p.m. – 1:00 a.m.
Friday: 4:00 p.m. – 2:00 a.m.
Saturday: 11:00 a.m. – 2:00 a.m.
Sunday: 11:00 a.m. – 1:00 a.m.
Nitehawk will feature a preview party tonight and officially screen films beginning tomorrow, December 19th. Tickets are now available.
Images: Sakeenah Saleem
Follow @martin_samoylov and @rereleasenews on twitter.
Update: This article was updated to list theater 2 containing stadium seating.