A small number of AMC and Alamo locations throughout the country hosted a marathon some might think of as impossible. All 22 movies from the Marvel Cinematic Universe, back-to-back, over two nights, from Iron Man to Avengers: Endgame.
AMC locations in New York, Illinois and California and 12 Alamo Drafthouse locations in various cities offered the event at $125 and $135 dollars per ticket.
We checked out the marathon in New York's AMC Lincoln Square. Believe it or not, it was sold out weeks in advance. 350+ movie theater seats housed fans who paid $125 dollars a ticket and were willing to sit through 59 hours of Marvel. Yes, even the front row was sold out.
There were breaks of around 15 minutes between each film, with one lengthier break of around an hour and a half or more once per day.
Ironically, the marathon began at 10AM. The very first Avengers: Endgame press screening at the very same location also began at 10AM.
That lead to two lines. One for fans in Avengers cosplays and one for press in working attire. One crowd would see Endgame right away and another after 59 hours of preparation.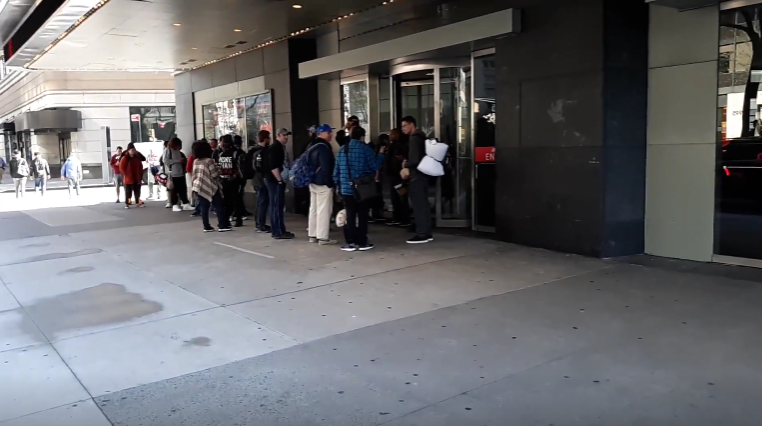 As the close to 400 fans walked into the auditorium, they were granted a bag of goods.
In it: 1 blanket, 1 toothbrush, 1 ChapStick, 1 bag of tissues (for Endgame) and a music download code. In fact, someone managed to put it all on eBay already.
With previous marathons, the length would usually be around a day. This was three, which lead to sleep being a concern.
"The first theater marathon I had ever done was for the Lord of the Rings Extended Editions which clocks in right around 12 hours. The second one was the Star Wars Last Jedi 8 movie marathon which came in at just under 24 hours. I like a good challenge and this Marvel-thon will more than likely be the only time anything this long happens," said Jon Colon from Staten Island, who attended Alamo Drafthouse's 22-film marathon in Brooklyn.
"Last year it was only 12 films long, they left some out," said Steven Werley. He and his friend TJ Hester traveled from Pennsylvania to New York for the marathon. "It's something where we did it last year, it was only $75 for the 30 hour marathon, it was only 12 movies long. And I think the day afterward we were telling each other 'That was great, we'll never do it again'. Every day from then on were like 'This was great, we need to do it next year.'"
Of course, attendees were just as much fans as they were human, so people slept during certain films.
"It seemed like the entire theater was asleep during Thor: The Dark World," said Steven. "I ended up sleeping through some of Captain America: The Winter Soldier, just because I needed it."
"I had made the plan to sleep through the combo of Iron Man 3 and Thor: The Dark World. This did not work out at all for me, though I saw many other people passed out during Dark World," said Jon. "I had someone fall asleep next to me during Spider-Man: Homecoming and he was snoring like a buzzsaw and the whole row that was still awake were getting annoyed so I had to keep waking him up to stop it."
"Some people moved their sleeping bags out into the hallway and some people just wanted to lay down on the floor. The chairs weren't the most comfortable thing to sleep in but we made it work," said Steven.
Indeed, AMC Lincoln Square has non-reclining foam seats that are decades old. All in a theater without stadium seating. (It did however have assigned seating, something which most AMCs are rumored to receive soon.)
While a theater with reclining seats would house fewer attendees, multiple auditoriums could do the trick. Perhaps one thing to keep in mind for AMC as they plan future overnight marathons.
AMC didn't give a toothbrush and a ChapStick for no reason. Hygiene is key for an event that is in many ways theater camping. "Just by not having a toothbrush or deodorant, you're going to feel run down. The little things to freshen you up go a big way," said Steven.
"I prepared a lot the weekend prior. I had a checklist of all types of hygiene products and such like I was going on vacation. Packing extra clothes, pain medication, snacks like protein bars and energy drinks, blankets and other comfort items," said Jon.
It's not unlikely that if AMC and Alamo or other chains would have dedicated even more screens or locations to the marathon, that those would have sold out as well. As insane as it might sound, people knew what they were going in to and it seemed like they wanted it.
Some took off work months in advance, anticipating the marathon even before it was announced. Many traveled from other cities and states. With the Marvel Cinematic Universe, fans have gone within a span of 11 years to being seemingly just as (possibly more) dedicated as those from franchises such as Star Wars, Harry Potter or The Lord of the Rings.
"I think it's more of a testament of how much we love this franchise for whatever reason," said Steven. "Even though though we're watching these preliminary movies, every time a staple character is shown on screen for the first time they get met with cheers, every time Stan Lee makes a cameo he gets a round of applause. Little details like those famous scenes when Iron Man suits up for the first time, just applause for everything. Everyone is just wired and ready."
"In the event that for whatever reason they may have decided not to offer an in-theater marathon, I was planning on doing it at home and live streaming myself for people to watch, but I preferred the theater crowd experience being with some of the most die hard fans of the franchise so it was never a question for me no matter what price it was gonna be for a ticket." said Jon.
A vast majority of attendees were in Marvel gear, which was proudly shown off when media came up to interview them. People might have been tired at some points, but they weren't absent from the movie's stories.
"Captain America comes on and he's a little puny guy and he stands up to the fight and says 'I can do this all day', everyone's is going to be cheering," said TJ right before walking into Captain America: The First Avenger.
As the days went buy, the hype for Avengers: Endgame became more and more intense. The film was shown at 5PM on opening night Thursday, the same time as fan events happened. Those three days and over 50 hours of watching Marvel movies were about to pay off. "As the films got closer and closer, more people were up, more people were active, just adrenaline driving through their veins," said Steven.
After Endgame, the crowds didn't walk out merely tired or exhausted. They walked out smiling for media cameras, getting greeted with free posters by theater staff and looking as satisfied as anyone can be by the movie. It's almost as if the movie got rid of any exhaustion they might have had previously.
"Endgame was a beautiful finale to 10 years of storytelling, that isn't just an accomplishment for superhero movies but films in general," said Jon. "I don't think we will ever see another film franchise pull off what Marvel has with the MCU."
A three hour epic like Endgame might have been the only worthy conclusion for those attendees, and based off reactions it definitely was. "With the way the film was it was a nice ending to a legacy and it was a nice ending to us doing this as well," said Steven.
As people walked out, some said "this was awesome" and "totally worth it" as some gave happy interviews to media cameras.
Although sleep and hygiene might have been a challenge, the hundreds of people who attended the marathon knew what they were going in for and got it. "You really have to love something quite a bit to be this dedicated. I couldn't recommend it for anyone who only casually likes the material," said Jon.
"It's something, if you're a fan of any specific film-type and something like this comes and you feel you're fan enough for it, go ahead and do it. It doesn't matter what people say about you for doing it. Just do it and you're going to have a fun time," said Steven.
Perhaps we might indeed never see a 60-hour, three day movie marathon as this again. But, history can show that those brave souls went for it and they got what they were looking for. Hundreds of fans, getting as ready for the conclusion of Marvel's Infinity Saga as arguably anyone could.
Avengers: Endgame is now playing in theaters.