In the United States, movies open on Fridays. Prior to 2013, that would be taken literally. First shows were at midnight, 12:01AM, of that Friday.
Some movies also had shows on Thursday evenings, but those were usually only the most anticipated blockbusters. Today, the reverse is the case.
Following the tragic shooting in Aurora, Colorado at a midnight show of The Dark Knight Rises, movies began to open on Thursday evenings instead of Friday mornings.
Only the largest blockbusters, films such as the recent Avengers: Endgame, would get screened as late as midnight at locations with the demand.
Within a year after the shooting in July of 2012, multiple studios started shifting to offer first showings on Thursday evenings instead. First studios experimented with 10PM, then 9PM and Paramount eventually went as far as having 7PM shows for G.I.Joe: Retaliation in March of 2013.
Today, 7PM on a Thursday is the standard for releasing films. Midnight screenings are a thing of the past.
But Spider-Man: Far From Home doesn't open on a Thursday but rather on Tuesday, July 2nd, in time before the holiday weekend. And apparently, Sony has given the go-ahead for theaters to have shows at 12:01AM that morning, as a large amount of AMC and Marcus theaters are offering shows for exactly that time.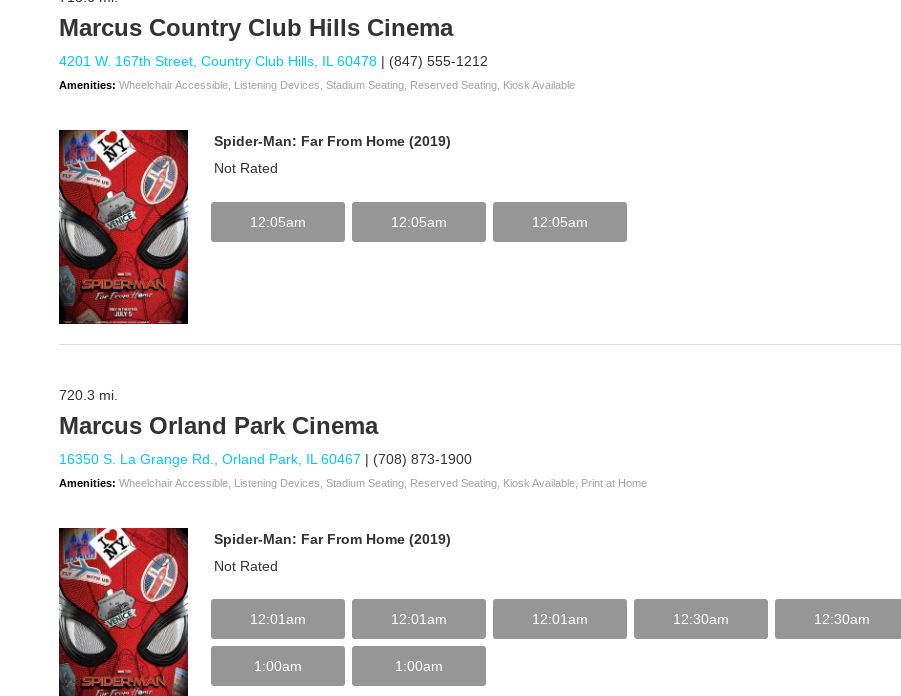 Having the movie open on the 5th would have meant Thursday night shows on the Fourth of July.
And since the movie doesn't open on a Friday, Sony apparently seems to have decided to bring back midnight premiere screenings for it.
Will this mean a revival of midnight premiere screenings going forward? Probably not.
There are inconveniences that come with midnight showtimes. Security, public transportation and family audiences are factors that make 7PM the better option. In fact, for some family-themed films such as the upcoming Detective Pikachu, Thursday shows may even begin at 4PM.
So this is unlikely to become a trend, but is still a surprising move. Thanks to reserved seating having been implemented in many theaters over the years, patrons at least won't have to line up at 9PM to see Spider-Man: Far From Home.
Image: Jay Maidment. ©2019 CTMG, Inc.